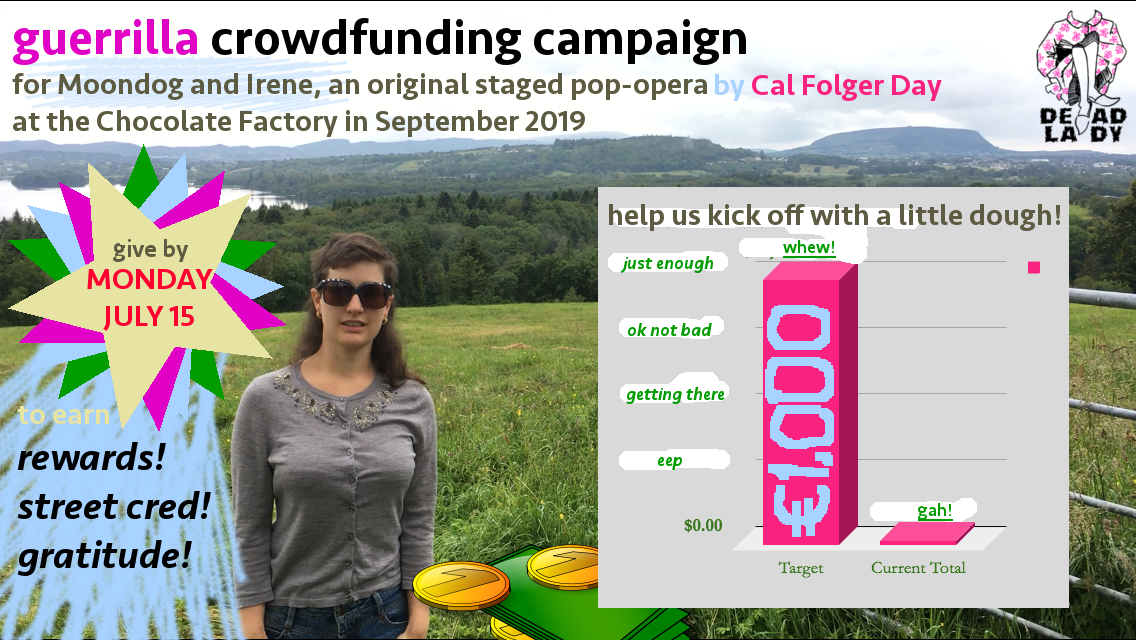 the campaign:
we have THREE SHORT DAYS to amass a small stockpile of proceeds!
the money is to cover the basic needs of a fully staged original pop-opera production,
MOONDOG AND IRENE by Cal Folger Day
The Chocolate Factory, Dublin
17-21 September 2019
this fundraiser is obviously not hosted by a 3rd party crowdfunding site, but it's built on the same model. choose your donation level -- the handsome rewards, starting at €10, are listed on the right (or below if yer on a mobile). make your donation online by clicking on any PayPal button on this page. you can pay in any currency and the money goes directly to the production team.
the performance festival restricts our fundraising timeframe, so you have only until MIDNIGHT on MONDAY JULY 15 to donate!
please!!! provide an email address when prompted so that we can deliver your reward, and specify if you'd like your gift to be anonymous or whether you'd like full credit in the printed program!
in the 2017 Dublin Fringe, Dead Lady's show The Woods and Grandma was nominated for three awards and walked away with the Little Gem prize. it has since been performed in Coole Park for Culture Night; on tour around the US; and has been the subject of an hour-long RTÉ Lyric FM documentary. this next one's gonna be a dang good show and we're so grateful for your belief in it. most of all, we hope to see you at Moondog and Irene in September!
---
the costs:
rehearsal space -- a place to make noise!
props, sets, and costumes -- a cherry on top of our sound sundae!
transport -- because you can't cycle with a keyboard AND an amp!
lighting & sound tech
promotion
public liability insurance

---
the show:
It was fairly recently that Cal Folger Day went to New York to make music. It was in 1958 that her great-step-aunt-in-law went to New York to find herself in a textile design career.
Lots of people go to New York, in reality and in dreams: it's the universal nexus of fantasy and nostalgia. So why wouldn't decades dissolve when a cult-favourite street musician in a Viking hat, Moondog, crops up in two separate lives?
Through music, movement, and verbatim interview material, enter NYC as an astral plane documenting both history and self.
---
the team:
Tom Creed, director
Dara Yeates, producer
Cal Folger Day, composer and performer
Aoibhinn O'Dea, movement
Phil Christie (O Emperor, The Bonk), keys and voice
Daniel Fox (Girl Band), upright bass
Ailbhe Nic Oireachtaigh (Cian Nugent, Woven Skull), viola
Nick Boon, guitar
---